Tie the knot with love and lace with this Wedding Ring Crochet Quilt! . The interlocking rings of this stunning quilt symbolize unity and love, making it a cherished heirloom piece that will be passed down through generations.

It's an exquisite creation crafted by the talented Kathleen Sams. This pattern requires a 5.5mm [US I-9] crochet hook and features single crochet, half double crochet, double crochet, treble crochet, and double treble crochet stitches. This is not suited for novice crocheters as it requires prior experience in crocheting. If you're looking for a challenging crochet for your wedding, spend time and expand your skills with this pattern! The finished quilt measures approximately 63″ x 80″ [160 x 203 cm].

As an unforgettable gift, the Wedding Ring Crochet Quilt is perfect for momentous occasions, such as weddings, anniversaries, or engagements. Its timeless design and intricate pattern convey a heartfelt message of love and commitment, making it a cherished keepsake and a splendid addition to any home.

Pattern Source: Yarnspirations
Designed by: Kathleen Sams
Pattern Type: Crochet >> Blanket
Skill Difficulty: Experienced
Hook Size: 5.5mm [US I-9]
Pattern Size: 63 inches x 80 inches
Yarn Brand: Red Heart Super Saver
Yarn Yardage: 220 yds

Get This Pattern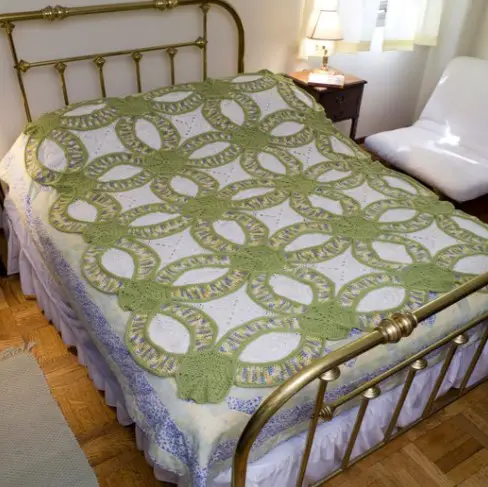 If you love to quilt, you may visit this website for FREE Quilt Patterns.
Crochet pattern you may like: Stacking Blocks Blanket