About Lauren Porter
Lauren Porter is an innovative artist who uses craft as an art form, drawing upon its rich social and historical connotations. Her interests lie in exploring the tensions between material and subject matter, and she skillfully combines opposites to play with ideas and perceptions.

Lauren's most striking examples of opposites can work together is her piece '12 Miles of Yarn' (2006). The design of a sports car, represented through knitting, sparks thoughts in various directions and challenges our expectations. Lauren's artwork aims to draw viewers in for a closer look through meticulous attention to detail and humor. She believes optimism and craftsmanship are essential elements in conveying deeper meaning within her art.

By incorporating different connotations and social symbols in her work, Lauren has found that her art appeals to a wide range of people. She enjoys exhibiting her work in various contexts, sharing it with audiences who might not typically encounter such pieces. Lauren is currently based in London, where she is working on a series of quilted British birds while also training to become an Art Therapist. Her passion for combining craft and art continues to evolve, capturing the attention and imagination of diverse audiences.
The Story Behind The Knitted Ferrari-inspired 12 Miles Yarn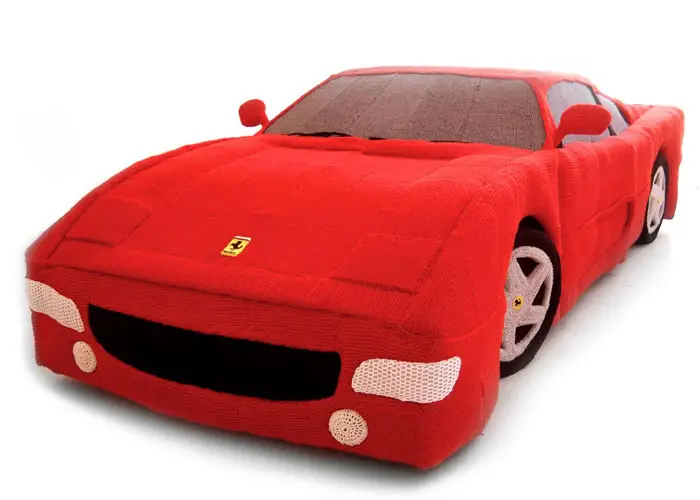 Move over! The adorable knitted Toy Cars convoy is approaching! Lauren Porter's 12 Miles of Yarn is a real treat for all car enthusiasts and lovers. This extraordinary piece fuses an iconic automobile with the traditional art of knitting, presenting an inspiring combination that invites us to rethink stereotypes and appreciate its wide-ranging appeal. Lauren Porter's full-size knitted Ferrari showcases her ingenuity, determination, and artistic vision. With the assistance of 20 family members and friends, she painstakingly hand-knitted the exterior and welded the car's steel frame herself. This attention-grabbing red knitted Ferrari uniquely blends a Testa Rossa and a 355. It includes windscreen wipers, wing mirrors, low-profile tires, and the famous hand-embroidered badge. The piece has already received considerable media attention and is now available for sale at Sarah Myerscough Fine Art.

Lauren's knitted Ferrari successfully merges contrasting aspects: masculine and feminine, soft and hard, young and old, fast and slow. Taking 10 months to produce, this intriguing work prompts us to consider whether the opposite of a Ferrari could indeed be knitting. The beauty of Lauren's piece lies not only in how it questions conventional associations and stereotypes but also in the positive and uplifting manner in which it does so. Lauren hopes that her approachable, engaging work will resonate with those who might only sometimes visit art galleries. The wide appeal of the knitted Ferrari is evident in the variety of events where it has been exhibited, from the British International Motor Show in the Sunday Times VIP Super Car Section to the Alexandra Palace Stitch and Knit Expo. As Lauren notes, "I get men admiring the racing lines and old women admiring the stitching."

Inspired by Lauren Porter's incredible creations? Tap into your own creativity and explore new projects. Here are free knitting patterns to start your next knitting adventure today!
How Did Lauren Porter Bring Furniture To Life In The Knitting World?
Lauren is an artist who defies conventions and breathes life into ordinary furniture through the magic of knitting. Check out these innovative creations that have captured the imagination of many and transformed how we perceive knitting in art and design.
Knitted Life-Size Chair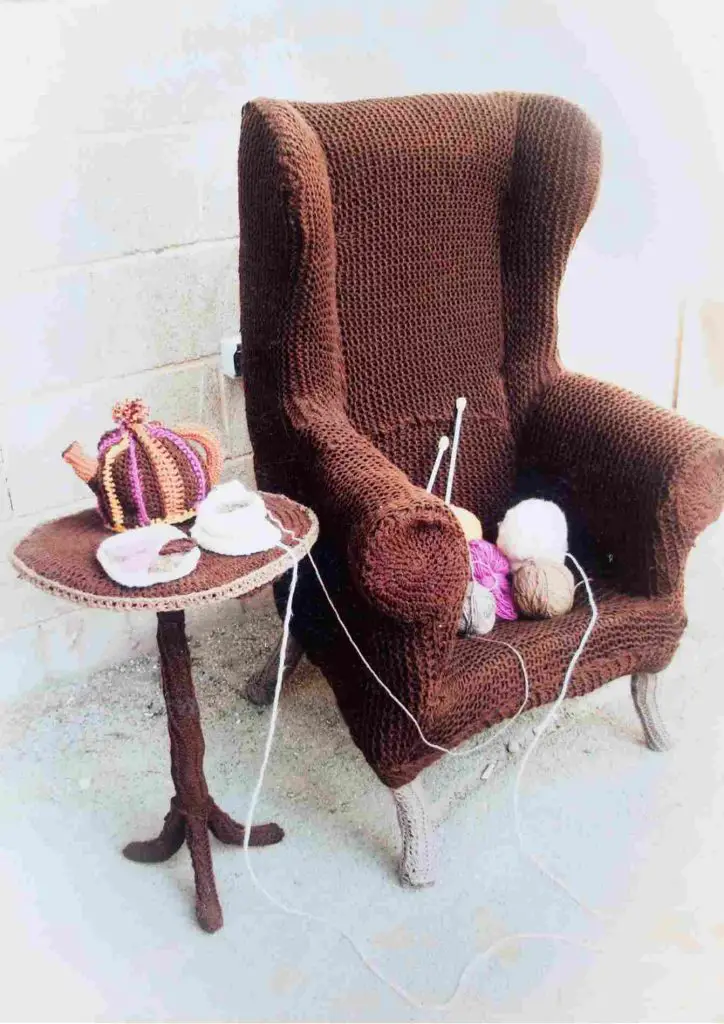 Lauren Porter's captivating artwork features a life-size chair skillfully knitted in 2005 using wire and acrylic yarn. The chair, with its warm brown color, showcases the remarkable creativity and technique of the artist. Every detail has been thoughtfully considered, as evidenced by the knitted legs of the chair, seamlessly blending both form and function.

Accompanying the chair is a charming knitted side table, complete with an adorably crafted teacup and kettle. Together, these objects create a cozy, inviting scene that demonstrates the incredible versatility of knitting as an art form. A perfect pair for Porter's chair masterpiece is the Basket Weave Knit Blanket. The transformation of everyday furniture into textured, visually appealing works of art is a testament to Lauren Porter's talent. This unique ensemble is sure to leave a lasting impression on all who encounter it.
Knitted Toilet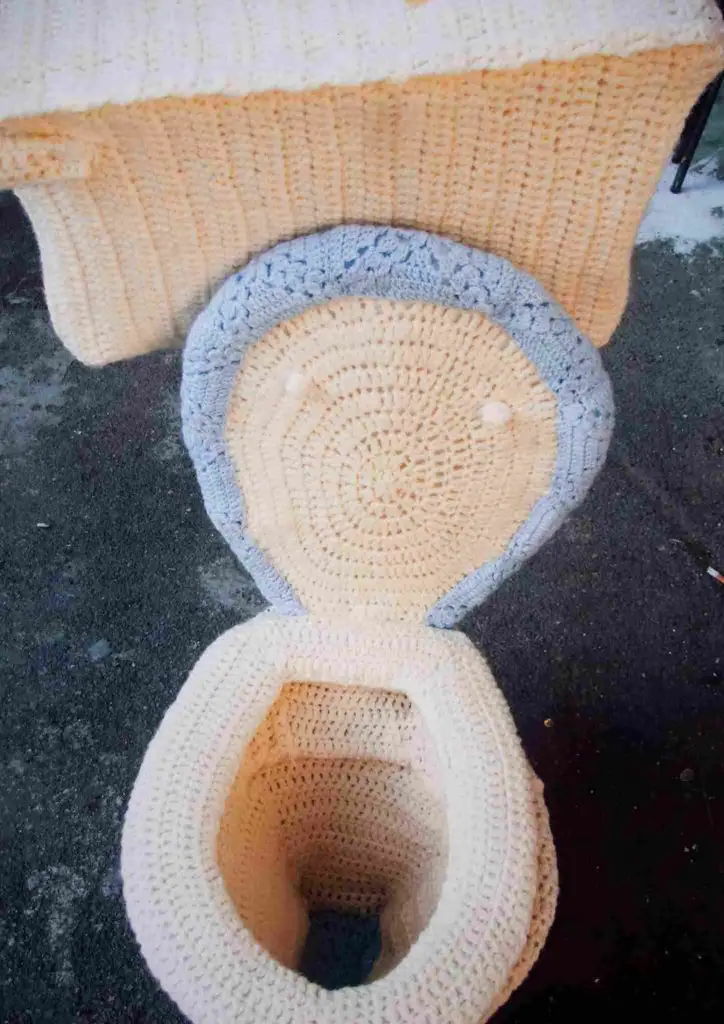 Lauren's creative method turns an ordinary object into a fascinating and intriguing work of art. Her rich details and careful craftsmanship show her proficiency in creating interesting pieces that challenge our preconceptions. Behold an entertaining creation by the talented Lauren Porter: a knitted toilet crafted in 2005 using wire and acrylic yarn. This imaginative piece features a sunny yellow toilet seat and tank, while the seat cover boasts a contrasting gray hue, showcasing the artist's keen eye for color and design. This quirky knitted toilet reminds us that joy and inspiration may be found in unexpected places. A creative and inspirational piece will brighten anyone's day.
How To Design And Knit A Unique Christmas Tree?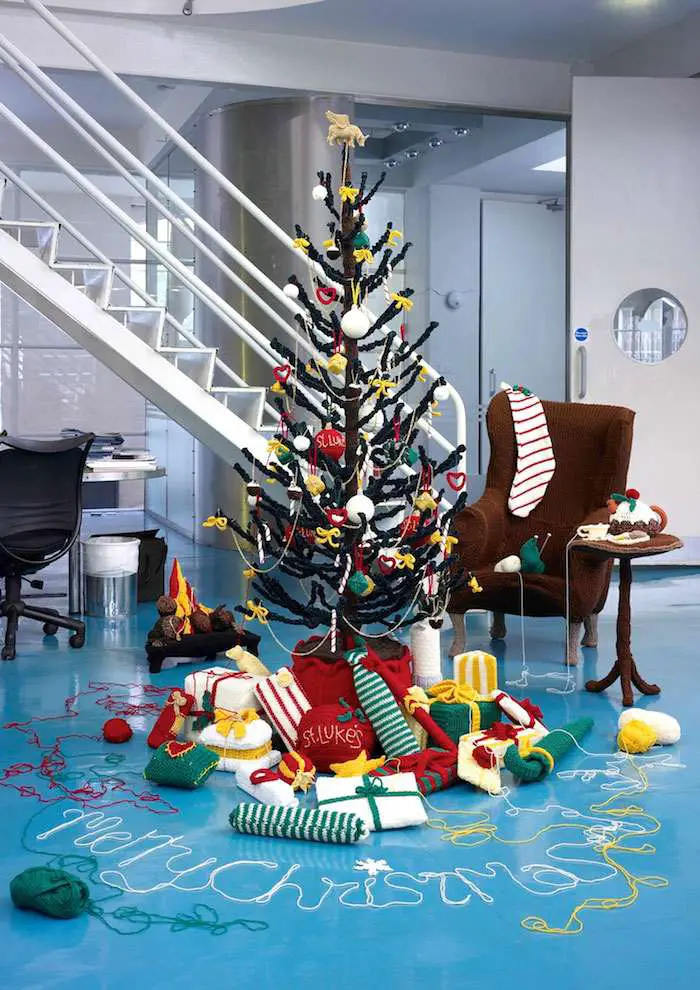 Imagine the warmth and cheer of a holiday season brought to life by a truly unique and delightful creation: St. Lukes's Advertising Agency's knitted Christmas tree, crafted by the talented Lauren Porter in 2006. Using wire and acrylic yarn, Lauren expertly knit the tree and the accompanying gifts, showcasing her remarkable skills and innovative approach to traditional holiday decor.

St. Lukes's chose to embrace the extraordinary, forgoing a typical Christmas tree in favor of Lauren's enchanting and heartwarming design. Employing various knitting techniques, she created a dazzling tree and adorned it with meticulously knitted gift boxes and umbrellas, elevating the festive atmosphere.

This one-of-a-kind knitted Christmas tree stands as a testament to the power of creativity and the joy it can bring during the holiday season. When it comes to Christmas decorating your home and tree, a little knit project may take it from festive to magnificent! So if you're looking for a cute and easy-to-knit ornament, make sure to add wreath ornaments to your jolly tree.