Spring is the start of new beginnings. It is a sign to start your new crochet projects. Spring is the season when everything is lively and lush, rich with blooming flowers wherever you look. Floral patterns are always in trend when it's Spring, don't also forget the ever-green fields and of course, the Easter bunnies. So we feel refreshed and full of energy to take on new crochet projects.

This list will give you the unique designs that you are looking for in Spring, so pick up your yarns – it's time to crochet!
Free Spring Crochet Patterns – Top Picks
1. Spring Bunnies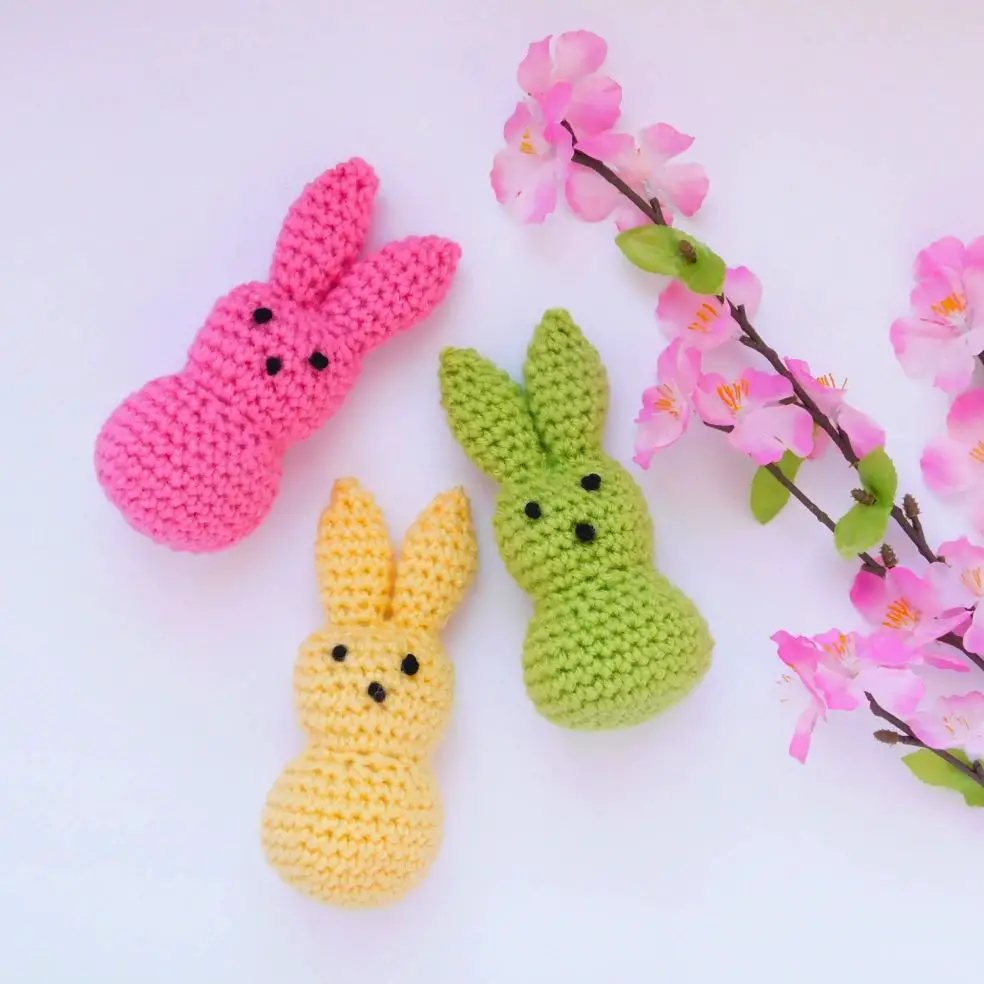 An excellent way to welcome Spring is to crochet Ollie Loop's Spring Bunnies! These cute bunnies invite a coming-to-life season. A win-win situation with these lovelies that are approximately 6" in height; you have free reign of their size. Bunnies are good for reducing stress, and by doing this stress-free project, all of your negative energy will go away. A better way to invite good luck is by crocheting bunnies.

2. Spring Abstract Blanket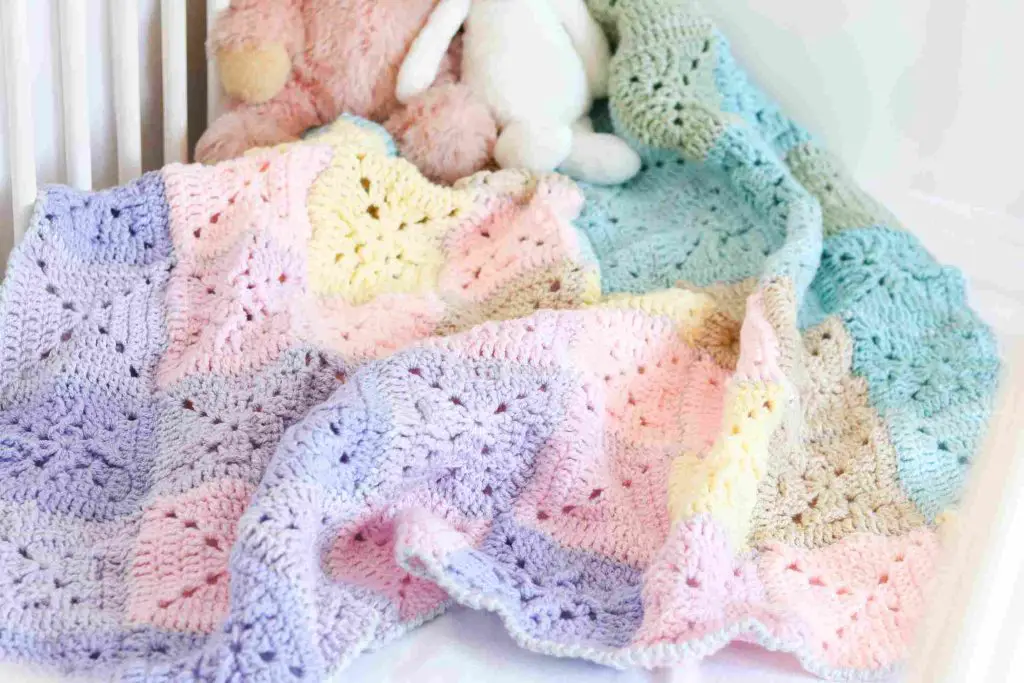 A soft pastel-colored baby blanket, Spring Abstract Blanket brings you angelic vibes perfect for a baby. Designed by Sarah-Jayne Fragola uses Aran weighted yarn and is redesigned to give maximum comfort to babies. People who just started quilting will love this pattern for it is very easy to make. After finishing the pattern the blanket should be 42 inches x 42 inches. You will just fall in love with this blanket!


3. Crochet Daisy Afghan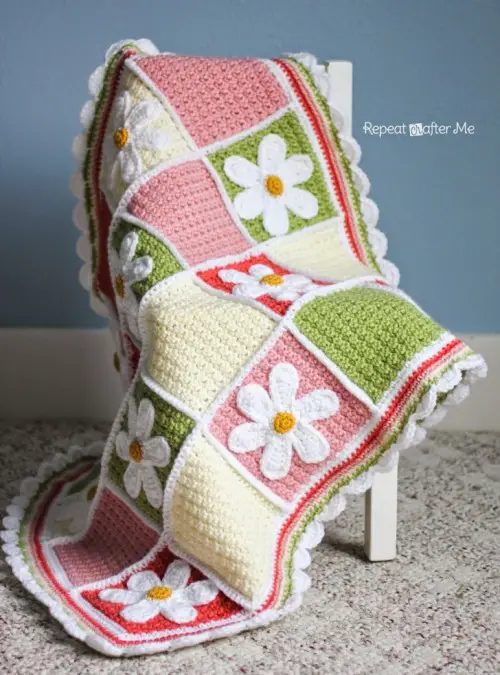 Looking for a perfect gift for a baby girl or a little girl? Then this Crochet Daisy Afghan by Sarah may just be what you are looking for. The color palette used is a pleasing combo that girls would love. The little daisies can charm everyone and show the innocence of a child. It reminds you of spring fields in full bloom. The finished design is 2 ft x 3 ft in size.

Learn more about the Crochet Daisy Afghan crochet pattern here.
4. Spring Blooms Coaster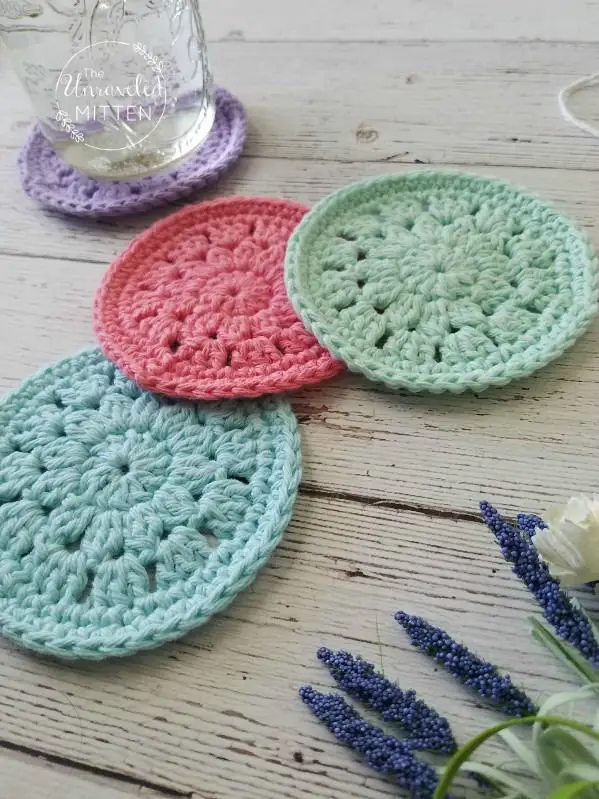 With the coming of Spring, we can now enjoy warmer weather and time to enjoy cold drinks. Coasters will be a good addition to your spring collection, especially this Spring Blooms Crochet Coasters. There's no trouble in making these coasters because it is quick and easy to crochet. Worry no more about what's lacking in your table these crocheted coasters are just an excellent choice to put on the table.


5. Butterfly Amigurumi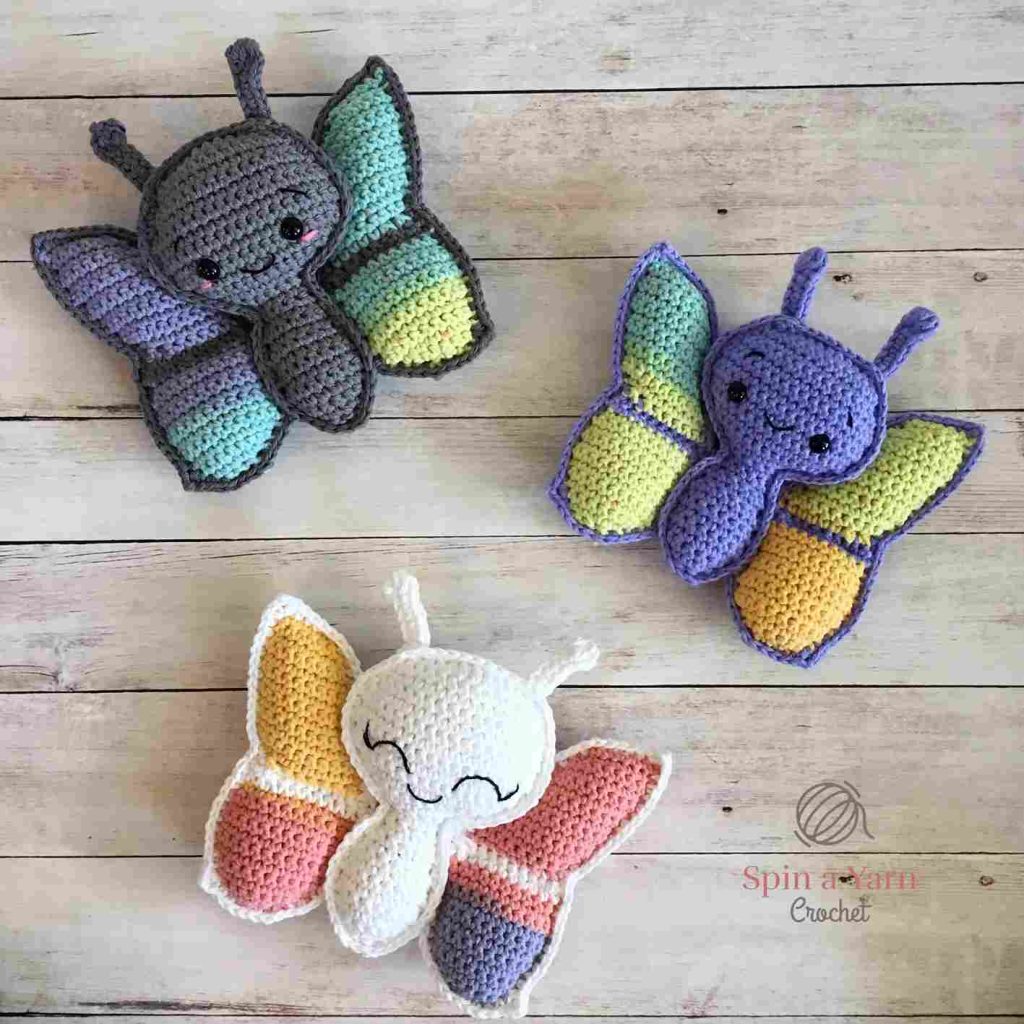 When flowers bloom then it won't be surprising to see butterflies in the gardens or fields. This Butterfly Amigurumi by Jillian Hewitt shows the beauty of butterflies. Doing this design is so fun and you can let your inner designer decide what colors you will use in each section. There is something so magical in crocheting this so just let your wings take you in whatever direction you feel awesome.


6. Spring's Arrival Scarf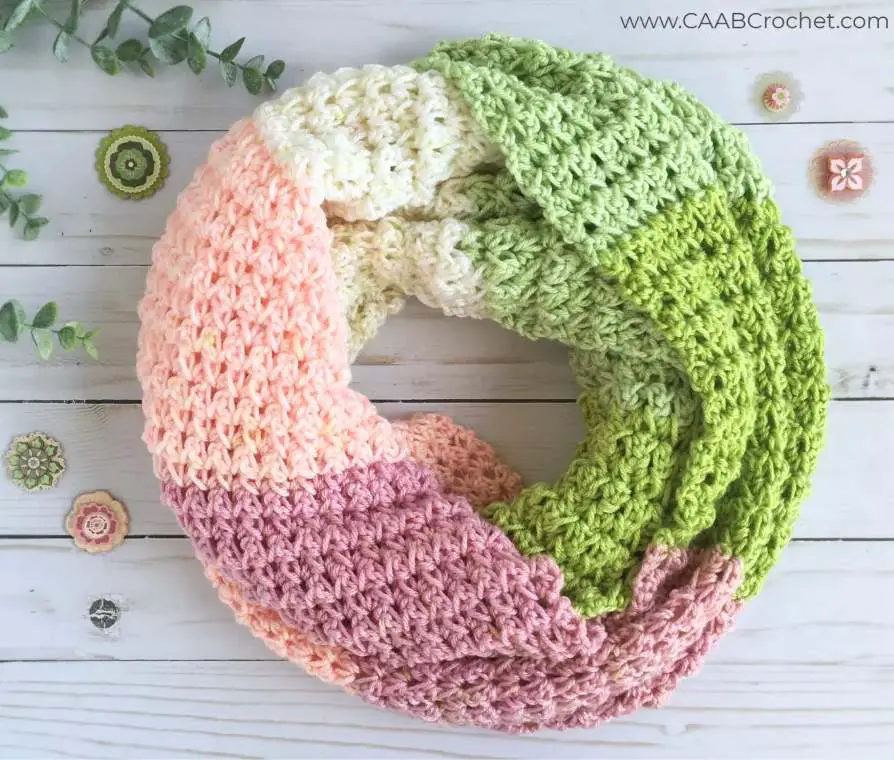 Winter's over but spring is yet to come. Well, what better way to welcome spring than to create a scarf with colors that embodies spring? With that in mind, Esther's crochet pattern of Spring's Arrival Scarf is a must. It feels so soft and will help keep out the cold for its boosted coziness. It is an infinity scarf with final measurements of 9 inches wide and 57 inches in length or circumference.


7. Crochet Flower Patch Throw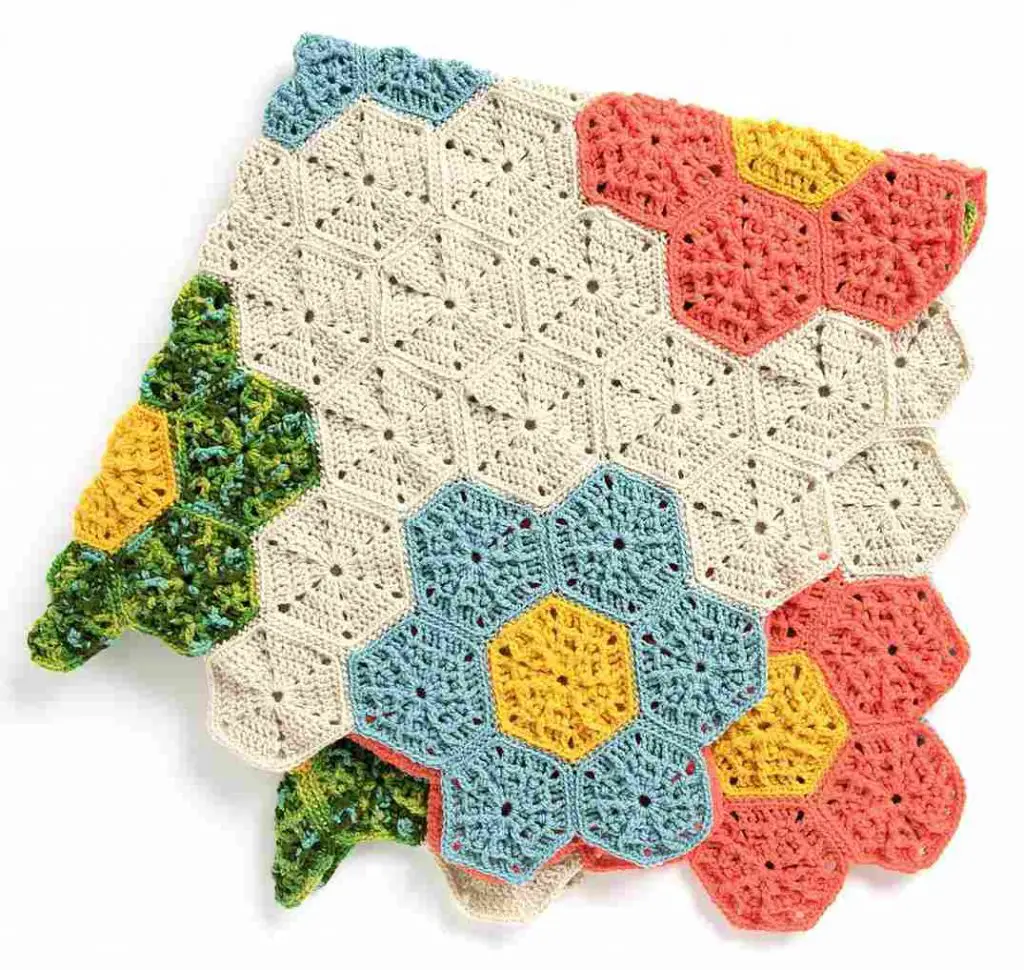 Flowers should never go missing during Springtime. To add more colors to your pieces of furniture during Spring it is highly recommended to add colorful throws in the mix. The pattern uses the bright colors of Caron One Pound to form background hexagons. Flowers are then added for a Spring-themed throw. You can have all the freedom you want in creating this intermediate-level crochet pattern.

Learn more about the Crochet Flower PAtch crochet pattern here.
8. Spring Crochet Hat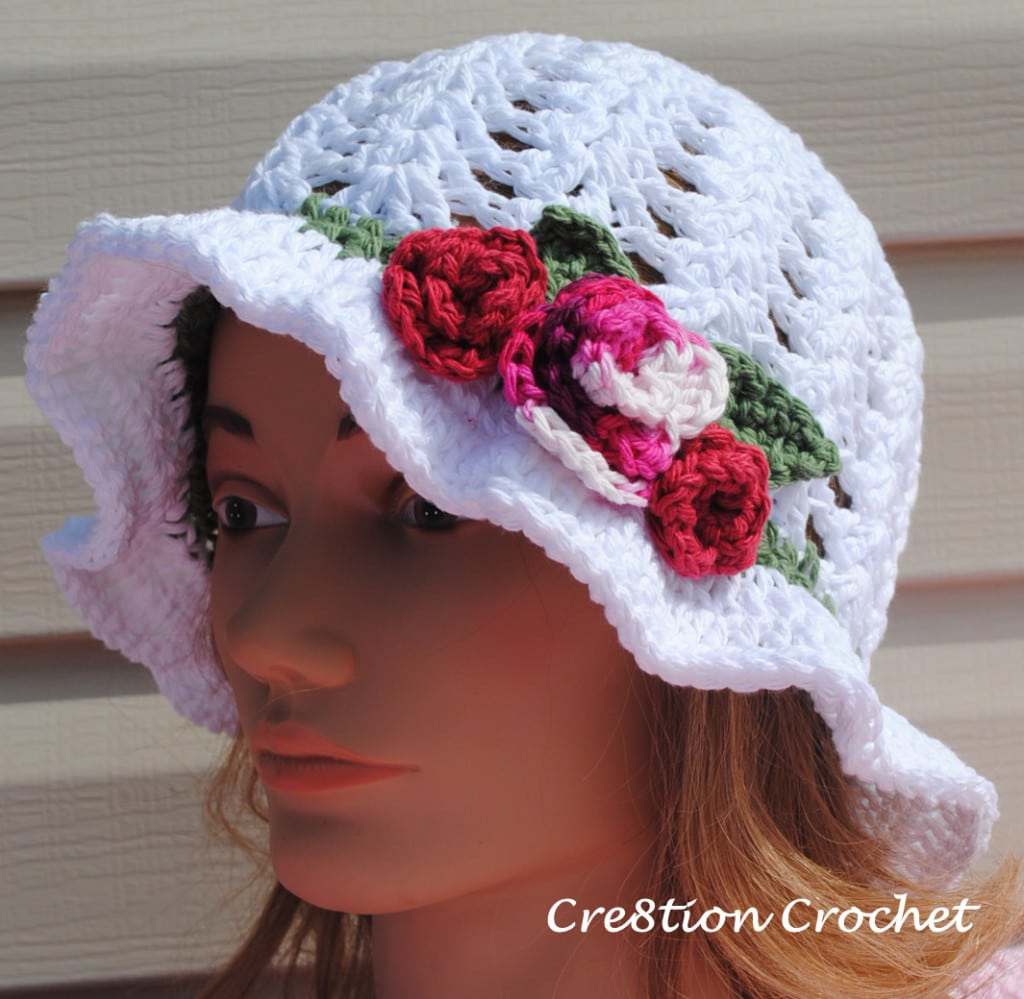 Toddlers to adults – there is a constant need for a hat either for its beauty or its practical use. This Adult Spring or Easter Hat Shell Stitch Cotton Hat with Spring Blossoms can be used for its beautiful design, as an accessory to your outfit, and to shield you from the bright light of the Spring sun. It is designed for comfort and style for ladies – be a trendsetter.


9. Spring Chick Hat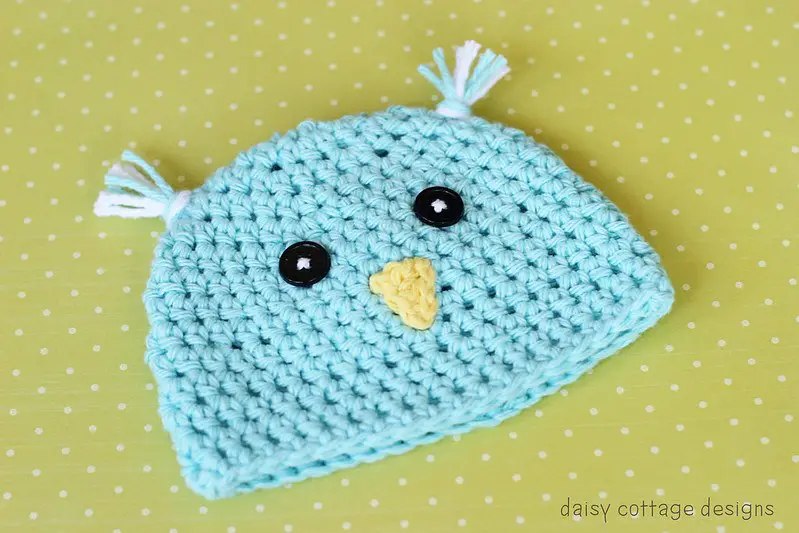 A unique gift during the Spring season – try this Spring Chick Hat for adorable Spring babies. Spring is always associated with warm weather, and this Chick hat just provides the right amount of comfort for a baby when you can feel the remnants of winter. So it is really easy to replicate that you can do it in a rush to prepare a gift. This is perfect for a gift idea for your girlies who love to style any OOTD with a cute crochet hat!


I hope this list gives you full of awesome ideas to add to your Spring collection of crochet projects. Happy crocheting!