The most wonderful time of the year is just around the corner, and what better way to usher in the festive season than with handmade decorations? This holiday season, we've curated a splendid collection of Crochet Christmas Wreath Patterns that will add warmth and charm to your home. Whether you're a seasoned crocheter or just starting your journey with yarn and hook, there's a wreath pattern for every skill level. From classic holly and ivy to whimsical characters, these wreaths are more than just ornaments; they're heirlooms, keepsakes, and a touch of your love and creativity adorning your door. Explore the magic of yarn and hooks as we present a range of patterns to suit every style. Let's dive into the world of crocheted wreaths and spread holiday cheer, one stitch at a time!
Free Crochet Christmas Costume Patterns for Kids and Babies – Top Picks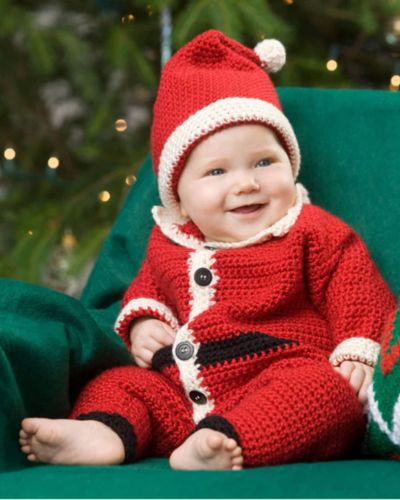 Designer: Kim Guzman for Yarnspirations
Kim Guzman's Infant Santa Suit and Hat pattern for Yarnspirations is a heartwarming intermediate crochet project. Using the Red Heart Soft Yarn and a 5.5mm [US I-9] hook, it creates an adorable Santa ensemble for babies. Imagine your little one as the cutest Santa, bringing joy to holiday cards and family photos. The suit's cuddly texture and classic red hue, or any color you fancy, makes it an enchanting outfit for baby's first Christmas, making those festive moments even more memorable.
Designer: Kristine Mullen for Yarnspirations
Kristine Mullen's Holiday Baby Cocoon pattern, offered by Yarnspirations, is an easy-level crochet delight that works up swiftly using Red Heart Super Saver and Spark-a-Doodle yarn collections. With hooks sized 6mm [US J-10] and 5.5mm [US I-9], you'll craft a snug, festive cocoon perfect for keeping your little one warm. This cocoon exudes holiday charm, enveloping your baby in a soft embrace, making it a cozy, handmade haven for your precious bundle during the celebratory season.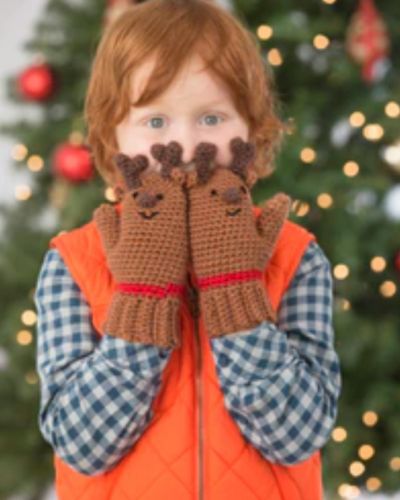 Designer: Amy Gaines for Lion Brand
The Reindeer Mittens pattern, artfully designed by Amy Gaines for Lion Brand, is a delightful crochet project. Perfect for advanced beginners, this easy-level pattern uses medium weight Lion Brand Vanna's Choice yarn and a 4 mm Size G-6 hook to create playful mittens that will charm any child. These mittens boast a whimsical reindeer design, promising to keep little hands warm and hearts merry throughout the winter season. Whether for play or festive gatherings, they're a whimsical addition to any winter wardrobe.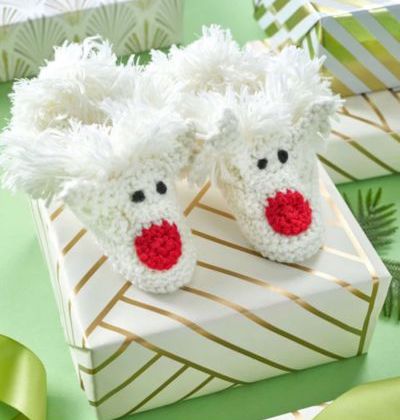 Designer: Michele Wilcox for Yarnspirations
The Happy Kids Reindeer Slippers crochet pattern by Michele Wilcox for Yarnspirations is a delightful craft for the festive season. An easy-level pattern that quickly transforms Red Heart With Love and Fur yarns into the jolliest of holiday footwear. Adorned with red noses, cozy fur edgings, and cute antlers, these slippers are perfect for Christmas morning. Available in three sizes, they're a customizable, picture-worthy gift for kids. Requiring 4mm [US G-6] and 6.5mm [US K-10½] hooks, they're as fun to make as they are for children to wear.
Designer: Diane Moyer for Yarnspirations
Unleashing holiday charm, the Holiday Photo Op Dress and Hat free crochet pattern by Diane Moyer crafts a darling outfit that's as comfortable as it is festive. Provided by Yarnspirations, this design employs a 5.5mm [US I-9] hook and Red Heart Soft Yarn. The snowflake pockets- a delightful detail adding holiday glee. The easiness of this pattern welcomes crocheters of all skill levels, while the washable quality ensures it stays clean and bright for the entire holiday season. Crochet away and fill your festivities with this adorable handmade touch!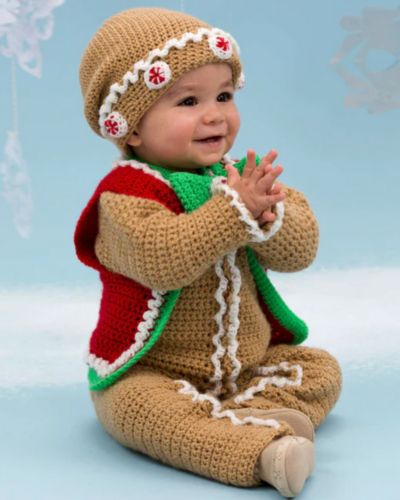 Designer: Tammy Hildebrand for Yarnspirations
Cute beyond compare, the Gingerbread Baby Set by Tammy Hildebrand for Yarnspirations is a crocheted marvel. Crafted with Red Heart Anne Geddes Baby yarn and a 4mm [US G-6] hook, this easy-level pattern includes a one-piece romper that mimics a gingerbread man, complete with whimsical embellishments like a rickrack-trimmed vest, a peppermint-striped beanie, and a smart little bow tie. This charming set is perfect for creating those adorable holiday photo moments with your little one.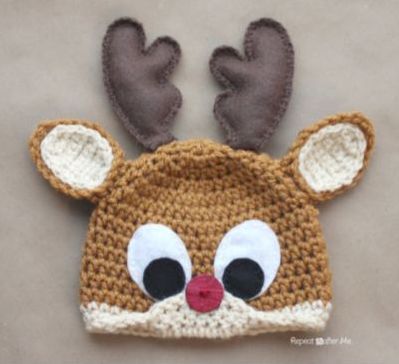 Designer: Sarah from Repeat Crafter Me
Sarah from Repeat Crafter Me brings to life the Rudolph the Reindeer Hat, a crochet pattern that's as adorable as it is festive. Crafted with the reliable Lion Brand Vanna's Choice worsted weight yarn and utilizing both Size H and F crochet hooks, this pattern is a joy to work up. The finished hat boasts the iconic look of everyone's favorite reindeer, complete with antlers and a red nose, sure to be a hit with kids and the young at heart during the holiday season.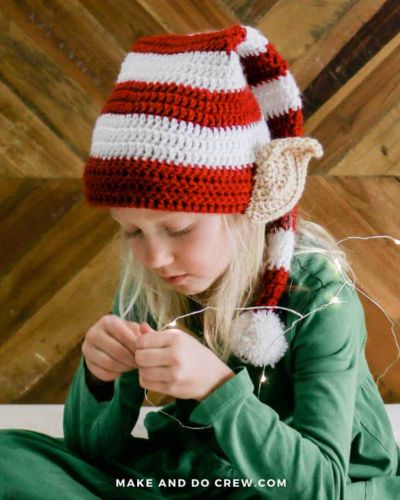 Designer: Jess Coppom of Make & Do Crew
Add a dash of festive fun to your family's holiday attire with the Elf Hat With Ears free crochet pattern by Jess Coppom of Make & Do Crew. This playful crochet project boasts pointy little elf ears that are sure to bring smiles. Crocheted quickly, you can craft enough hats to transform each family member into a jolly elf, as the pattern accommodates sizes from babies to adults. To guide your creation, there's a useful video tutorial. Made with a Size I (5.5 mm) crochet hook and Lion Brand Vanna's Choice yarn, this hat is a joyous addition to any holiday celebration
As we draw the yarn over our hooks and pull through to finish, we come to the end of our festive crochet journey. These Christmas costume patterns have not only been about creating adorable outfits for our little ones but also about weaving the warmth of our love into every stitch. From the jolly reds of Santa's suit to the whimsical twist of elfin hats, each piece is more than just a garment—it's a keepsake, a tradition, and a warm hug from the crafter to the child. These costumes will surely add an extra sprinkle of magic to your holiday celebrations, creating memories that will be cherished far beyond the season.