The most wonderful time of the year is just around the corner, and what better way to usher in the festive season than with handmade decorations? This holiday season, we've curated a splendid collection of Crochet Christmas Wreath Patterns that will add warmth and charm to your home. Whether you're a seasoned crocheter or just starting your journey with yarn and hook, there's a wreath pattern for every skill level. From classic holly and ivy to whimsical characters, these wreaths are more than just ornaments; they're heirlooms, keepsakes, and a touch of your love and creativity adorning your door. Explore the magic of yarn and hooks as we present a range of patterns to suit every style. Let's dive into the world of crocheted wreaths and spread holiday cheer, one stitch at a time!
Free Crochet Christmas Wreath Patterns – Top Picks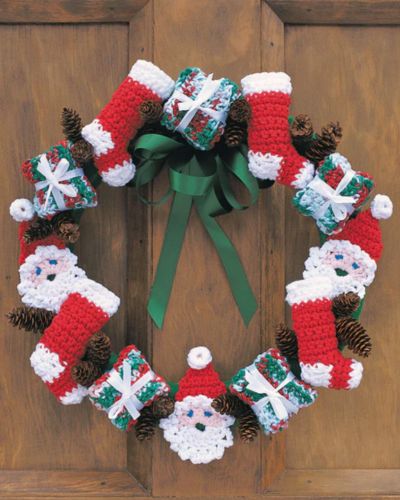 Designer: Lily Sugar'n Cream for Yarnspirations
Get into the holiday spirit with the Merry Christmas Wreath, a wonderful crochet pattern from Lily Sugar'n Cream. This festive creation comes to life with a Size 4 mm (U.S. G or 6) crochet hook and the colorful Lily Sugar'n Cream Cotton 4 ply yarn collection. Adorned with jolly Santas, festive gifts, and stockings, this wreath brings a touch of Christmas magic to your home. Hang it on your door or use it as a joyful wall accent to spread holiday cheer!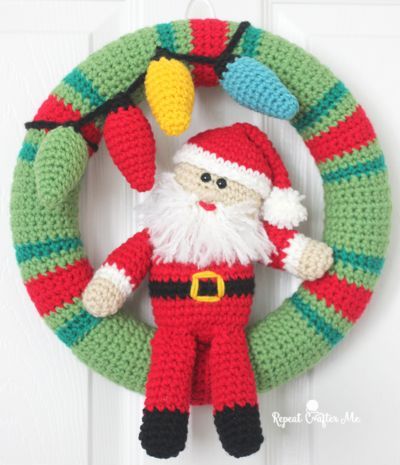 Designer: Sarah of Repeat Crafter Me
Embrace the festive season with this delightful Crochet Christmas Wreath pattern by Sarah of Repeat Crafter Me. This eye-catching wreath features Santa as the centerpiece, topped with twinkling Christmas lights. Crafted with love and a crochet hook, it's the perfect addition to your holiday decor. Spread the holiday spirit and let Santa welcome your guests in style!
Designer: Lily Sugar'n Cream for Yarnspirations
Let your crochet talents shine with the Season's Greetings Wreath, courtesy of Lily Sugar'n Cream. This festive wreath features charming bells and holly leaves, creating a warm welcome for your visitors. Crochet the jingling bells in a variety of Lily Sugar'n Cream colors, adding a vibrant touch to your holiday décor. Share the crafting magic with a family member or friend as you embark on this delightful seasonal project together. 'Tis the season for creativity, so let the crochet festivities begin!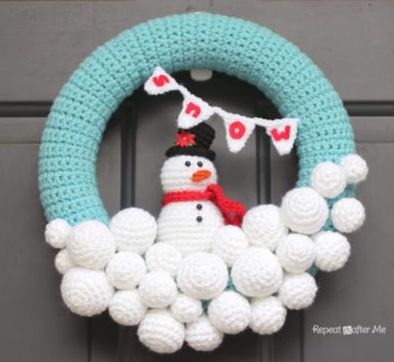 Designer: Sarah of Repeat Crafter Me
Create a cozy winter wonderland inside your home with the Crocheted Snowball Wreath by Sarah of Repeat Crafter Me. This delightful crochet project allows you to craft snowballs in various sizes, from small to large. The wreath is adorned with an adorable snowman atop a pile of snowballs, and festive buntings spelling out 'snow.' This charming piece adds a touch of winter magic to your holiday décor. So, grab your yarn and crochet hook, and let's turn your home into a crochet snowscape!
Designer: Amber of Divine Debris
Craft the sweetest decoration with the Peppermint Candies Wreath designed by Amber of Divine Debris. This crochet pattern employs a US G (4.00 mm) crochet hook and Aran medium/size #4 weight yarn. The pattern includes tutorials for creating peppermint candies in various sizes, from small to medium and large. Adorn your home with this delightful wreath, and let the charming crochet candies add a touch of holiday cheer. It's the perfect project to make your space feel festive and inviting!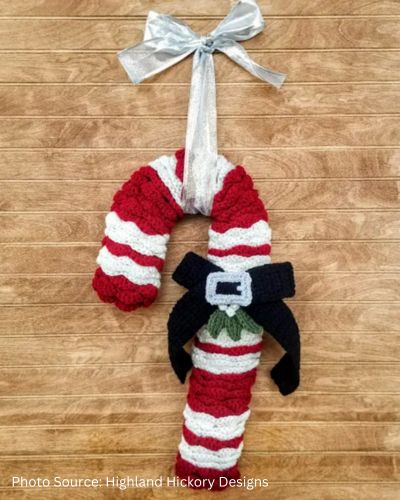 Designer: Erica of Highland Hickory Designs
Crochet a sweet and festive Candy Cane Wreath with the free pattern by Erica of Highland Hickory Designs. This delightful pattern uses Red Heart Super Saver yarn and a combination of H/8 (5.00 mm) and F/5 (3.75 mm) crochet hooks. When finished, the wreath measures 21" in height and 12" in width, complete with a stylish black bow. Create a charming and whimsical holiday decoration that's sure to bring smiles and cheer to your home. Add a delightful touch of crochet to your Christmas decor with this fun project!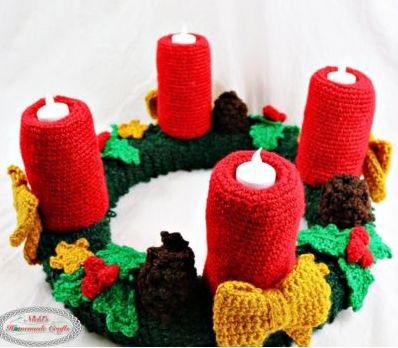 Designer: Nicole of Nicki's Homemade Crafts
Celebrate the holiday season with the Advent Wreath, a free crochet pattern by Nicole of Nicki's Homemade Crafts. This unique design is meant to be displayed flat as a table-top wreath, perfect as a centerpiece or mantle decoration. Crafted with Lion Brand Heartland yarn and a 5.0mm hook, this Advent Wreath measures 18 x 10 inches (2.5 inches without add-ons). It features candles, pinecones, holly, a star, and bows, creating a festive atmosphere. You'll find both written instructions and a helpful video tutorial to guide you in making this beautiful holiday wreath.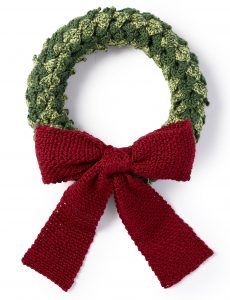 Designer: Yarnspirations
Add a touch of natural beauty to your holiday decor with the Layered Leaves Wreath, a free crochet pattern from Yarnspirations. Crafted with Caron Simply Soft yarn and a U.S. H/8 (5 mm) crochet hook, this wreath measures approximately 12″ in diameter. With an easy skill level, it's a delightful project for the season. The layered leaves design, achieved through a modified crochet crocodile stitch, gives this wreath a unique and festive charm. Crochet your way to a beautifully adorned home for the holidays!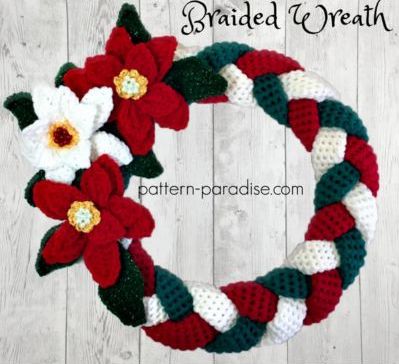 Designer: Pattern Paradise
Experience the joy of the holidays with the Braided Christmas Wreath, a free crochet pattern by Pattern Paradise. Made using Red Heart Strata and Red Heart Super Saver yarn, along with U.S. H/5.00 mm and U.S. I/5.50 mm hooks, this 13″ diameter wreath features a braided ring and lovely flowers with leaves. Add a festive touch to your decor with this handmade creation, celebrating the season in style.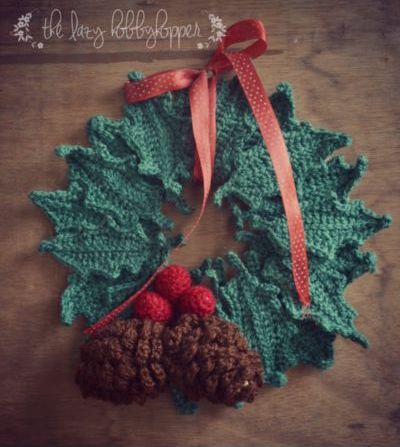 Designer: Pattern Paradise
Elevate your holiday decor with the Holly Leaves Christmas Wreath, a delightful crochet pattern by Pradeepa of The Lazy Hobby Hopper. Crafted with light worsted weight yarn and a G/4.00 mm hook, this wreath showcases intricately designed holly leaves forming the ring, adorned with pinecones and berries. For added convenience, there's a helpful video tutorial available. Bring the festive spirit into your home with this charming handmade wreath, capturing the essence of the season in every stitch.
In the world of holiday crafting, Crochet Christmas Wreaths stand out as timeless treasures. Each wreath is a labor of love, woven together with skill, creativity, and a dash of festive magic. As you embark on your crochet wreath-making journey, remember that it's not just about the finished product, but the joy and warmth it brings to your holiday celebrations. So pick up your hooks, select your favorite pattern, and let the holiday crafting begin! Happy crocheting and Merry Christmas!