Christmas is not just a holiday. It's a magical time of the year filled with joy, love, and togetherness. Imagine infusing even more warmth and personal touch into this wonderful season by decorating it with crocheted ornaments.

Make your Christmas merrier with this list of Crocheted Christmas Ornaments we collected just for you!
Free Crochet Christmas Ornament Patterns – Top Picks
The sweetness of these Gingerbread House Crochet Ornaments will surely never fail you! This crochet is a gingerbread house with a cute red heart as its centerpiece. Bringing the festivities in your home, this sweet piece is approximately 3 ½ inches x 5 inches when finished. If you're worried about recreating this piece, ease as this crochet is branded easy in difficulty making it handy for beginners like you!
Make your Christmas memorable with these Christmas Blossoms from the amazing DROPS Design! This masterful crochet is also a cute and fun thing to add to your Christmas decorations! It may look small but it's actually 6 1/4″ in circumference. Despite the size, this one looks all fuzzy because of how cute it looks. Although this one is an Experienced level crochet, it is worth the effort!
Are you tired of only seeing Christmas balls hanging by your trees? Then why not change it for the better from now on? Check out this crocheting pattern entitled Christmas Love Hearts Ornaments from Yarnspirations! It's an intermediate level pattern but you'll definitely do just fine. These lovely hearts measure at around 4 1/2″ tall and 5″ across so it's quite huge. Surely, this love piece will bring love to your cold Christmas season!
Aunt Lydia's Crochet Thread designers have crafted another elegant design named Lacy Christmas Ornaments. This lace design is perfectly shaped to cradle Christmas balls, adding a touch of sophistication before they grace your Christmas tree. Test your crochet prowess with this intermediate level design; despite its delicate 3″ size, it promises to be a standout addition to your festive decor. Given its compact size, you'll have plenty of these exquisite ornaments ready in time for the season of giving!
These Ornament Balls from Yarnspirations takes quite some skill to make, its difficulty level is quite high. So, if you're confident in your skills, then put it to a test and level up your Christmas balls by recreating Decorative Christmas Ornaments! it's only about 3″ in diameter, but it's quite an eye catcher! Your guests will surely drool over when they see them hanging around your Christmas Tree!
The Christmas Tree Ornament Scrubbies by Kara Gunza is an easy level crocheting pattern that you can recreate for the upcoming Christmas. It can be used to decorate your home by making them with beginner friendly hanging loops. These balls only measure 5″ at diameter so it will definitely add a dainty shine to your tree. Not only that, this crochet piece is also a great gift for a visiting family or friend!
Sink your hooks into the delightful Happy Hamburger Ornament by the talented Michelle Wilcox! This crochet creation captures the essence of everyone's foodie favorite, bringing a savory charm to your tree decor. Crafted using the vibrant Red Heart Super Saver yarn and a U.S. F/5 (3.75 mm) crochet hook, this ornament measures a perfect bite-sized 3 ½". Ideal for both seasoned crocheters and novices, the pattern boasts an easy skill level. Let this deliciously designed ornament add a whimsical touch to your festive decorations!
Dive into the festive spirit with the Christmas Angel ornament, a free crochet pattern from Oombawka Design Crochet. Crafted with medium weight yarn and a 4.0 mm (G) hook, this ethereal angel stands 6 inches tall (excluding halo) and spans 4.5 inches wing-tip to wing-tip. Perfect for adorning your Christmas tree or gifting to loved ones, this delicate design adds a heavenly touch to holiday decor. A must-try for crochet enthusiasts, this angelic piece captures the essence of the festive season.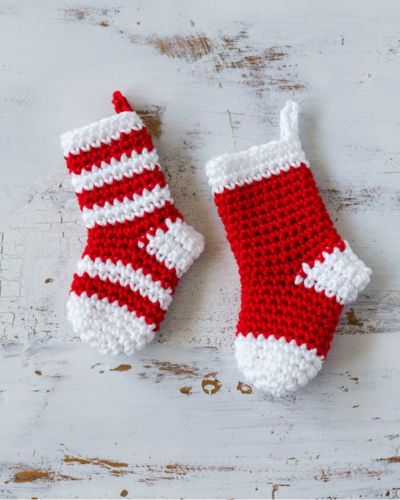 Designer: Ashleigh of Sewrella
The Crochet Mini Stockings Christmas Ornament is a free crochet pattern specially crafted by Ashleigh of Sewrella. Woven using the Lion Brand 24/7 Cotton and a Size E crochet hook, these petite treasures bring a unique twist to your festive décor. The perfect handicraft for holiday decorations or as special handmade gifts, these mini stockings are versatile, elegant, and carry a distinctive charm. Be it on your Christmas tree or simply accessorizing a thoughtful gift, they are sure to add a festive cheer to your holiday merrymaking.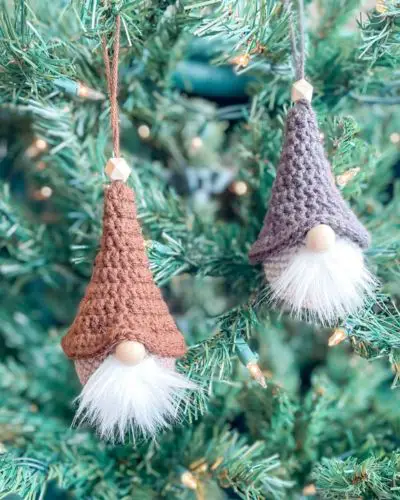 Designer: Kali of The Friendly Red Fox
Transform your festive decor with Kali of The Friendly Red Fox's free crochet pattern, the Crochet Gnome Ornament. Adorning a space of 6 inches, this endearing ornament is ideal as a thoughtful gift, a unique gift topper, or a charming enhancement to your Christmas ambience. Created with a worsted weight yarn coupled with a size 3.75 crochet hook, it's an expedient project perfect for those seeking quick decorative additions. Whichever way you choose to present it, the gnome is set to lend a delightful spirit to your Christmas celebrations.
Designer: Donna Wolfe from Naztazia
Adorn your holiday setting with the Yarn Basket Ornament, a free crochet pattern lovingly curated by Donna Wolfe from Naztazia. Expertly created using worsted weight yarn and a 4.0 mm (G) crochet hook, it depicts an adorable basket brimming with colorful yarns. This delightful ornament is a superb tribute to crochet or knitting enthusiasts. Its simplicity combined with resilience makes it an outstanding addition to your Christmas tree. Standing as a testament to the warmth of a handmade Christmas, it is an emblem of craftsmanship and celebration.
Elevate your holiday decorations with the Wee Winter Hat Ornaments, a free crochet pattern thoughtfully crafted by Lion Brand. Designed for intermediate crocheters, these charming little hats boast a whimsical appeal. Composed with Lion Brand Bonbons yarn collection and a size G-6 (4 mm) crochet hook, these 5-inch circumference treasures include three delightful hat styles: Striped Earflap Hat, Striped Stocking Cap, and Striped Beret. Each showcasing their unique personalities, these ornaments breathe life and festive warmth into any Christmas setting, ensuring an enchanting, memorable celebration.
That ends our highly magnanimous Crochet Christmas Ornaments Patterns List! Incorporating crocheted ornaments into your Christmas décor is like adding a sprinkle of joy to an already joyous season. It makes the holiday season feel more personal, heartwarming, and truly yours. So grab your crocheting tools now and download your bets.