Fall is here, and it's the perfect time to get cozy with some yarn and a crochet hook! Ever thought about making something special for this season?

Whether you're new to crochet or have been doing it for years, we've got some fun and simple patterns just for you. Let's celebrate the beauty of autumn leaves and cool breezes with some easy-to-follow crochet projects. Ready to get started? Let's make this fall even more colorful and warm with our creations!
Free Fall Crochet Patterns – Top Picks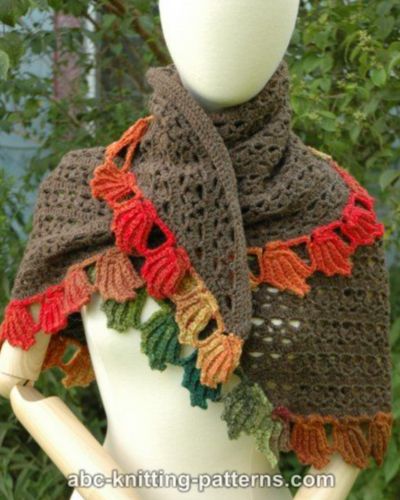 Designer: ABC Knitting Patterns
Style your fall fashion game with Fall Leaf Stole Free Crochet Pattern, designed by ABC Knitting Patterns. Measuring 92 inches in length and 18 inches in width, this intermediate-level pattern offers a stylish twist on traditional shawls, as it's crafted sideways. Using a 5.5 mm (I) hook and aran weight yarn, its design captures the essence of fall leaves. The perfect accessory for the season. Head to a cozy bonfire or a crisp fall festival, this crochet pattern adds a touch of elegance and warmth to any outfit. Embrace the beauty of fall leaves with this chic and fashionable stole. Make a statement wherever you go!
Introducing the Bold Stripe Crochet Hat, a free crochet pattern from Yarnspirations. This quirky and easy-to-make beanie is a must-have addition to your headwear collection. With its bold stripes and playful design, it's the perfect accessory to express your unique style. Crafted with ease in mind, this hat is a fantastic project for crocheters of all levels, ensuring a fun and satisfying experience. Keep your noggin warm and your look on point – because why settle for ordinary when you can crochet extraordinary?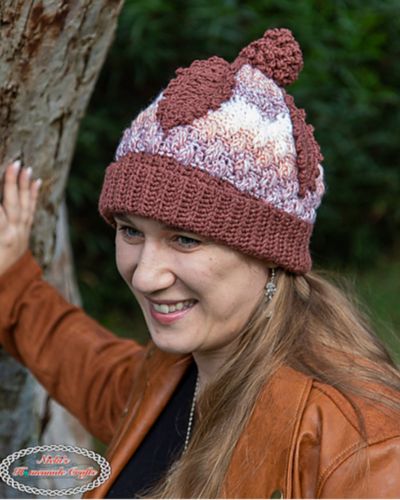 Designer: Nicole Riley of Nicki's Homemade Crafts
Get ready to embrace the whimsical beauty of Fall Leaf Hat with Pinecone Pom Pom Free Crochet Pattern. This enchanting hat, designed for adults, captures the essence of pinecones in the fall season. Crafted in-the-round by Nicole Riley of Nicki's Homemade Crafts. It features intricate leaf motifs and is adorned with a charming pine cone pom pom, adding a touch of woodland magic to your attire. This crochet pattern brings a dash of fantasy to your wardrobe strolling through autumn forests or sipping pumpkin spice lattes. Wrap yourself in the coziness of fall and channel the spirit of the season with this delightful and unique hat.
A vibrant burst of color that will instantly brighten your day! This scarf measures a generous 10″ x 110″ by Yarnspirations. Ensures you'll stay cozy and stylish all season long. Even beginner crocheters can dive into this exciting project. Get ready to infuse your wardrobe with happiness and excitement as you crochet this playful and eye-catching scarf. Make a statement with bold color blocks and delightful bobbles and spread joy wherever you go with the Crochet Color Block Bobble Scarf.
The cheery spirit of autumn captivated in the afghan designed by Yarnspirations. This intermediate-level project brings the essence of fall into your home with its warm and inviting color palette. Measuring a generous 45″ x 55″, it's the perfect size to keep you cozy as the temperatures drop. This blanket showcases the art of crochet in a delightful granny square design. Experience the beauty of autumn-inspired craftsmanship with the Fall Colors Granny Crochet Blanket.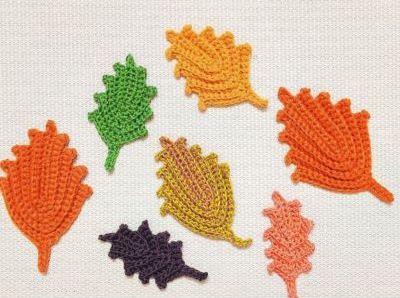 Designer: Raji's Craft Hobby
The crochet leaves serve as beautiful motifs of the Easy Autumn Fall Leaves Free Crochet Pattern. Just like the changing leaves of autumn symbolize renewal and transformation. This pattern from Raji's Craft Hobby invites you to infuse your creations with the same spirit of hope. Add these charming leaves to blankets, scarves, or any crochet project to celebrate the changing seasons and the promise of fresh starts.
Prepare to chuckle your way into cozy comfort with the crochet masterpiece designed by Gayle Bunn for Yarnspirations. This cardigan is the epitome of unique and slouchy style, giving you that "I woke up like this" look. Available in sizes XS to 5XL, it's got room for everyone, from petite to positively plump. And the best part? It's an easy-level project, everyone can whip up this fashion-forward piece. So, why not add a dash of humor and a whole lot of cozy to your wardrobe with the Slouchy Crochet Cardigan? Your inner jokester and your inner fashionista will thank you.
Immerse yourself in the beauty of autumn with the Fall Leaves Scarf Free Crochet Pattern, thoughtfully crafted by ABC Knitting Patterns. This pattern skillfully replicates the intricate details of autumn leaves. It allows you to carry a piece of nature's artistry with you wherever you go. This scarf offers both elegance designed using the filet and motifs techniques. As you crochet each leaf, you'll be inspired by the changing seasons and the endless possibilities of your craft. Wrap yourself in the warmth and inspiration of fall with this exceptional crochet pattern. Experience the magic of nature's masterpiece year-round!
Transport yourself back to the cozy hearths of yesteryears with the Crochet Cables Afghan. Measuring a comforting 50″ by 58″, this afghan is the perfect companion for those nostalgic evenings by the fire. Crafted with intermediate-level skill, it presents an exciting challenge for crochet enthusiasts looking to expand their skills. As you work through the intricate cable stitches, you'll be reminded of the warmth and charm of home. Embrace the sentimentality of days gone by and create a cherished heirloom by Yarnspirations. A piece that exudes the heartwarming nostalgia of hearthside comfort.
Indulge in the warmth and coziness of your very own comfort blanket. This pattern design is from Raji's Craft Hobby which embodies the passion for all things comforting and snug. An ideal companion for chilly evenings. Crafted with care, it's a project that allows you to pour your heart and soul into each stitch. Whether you're crocheting for yourself or as a heartfelt gift, this pattern invites you to experience the joy. Crochet a cherished piece that wraps you in comfort. Embrace the passion for crochet and the comfort of your very own Fall Blanket.
Step into the realm of enchantment with a truly magical creation designed by Svetlana Avrakh for Yarnspirations. This fantastical pullover, available in sizes XS to 5XL, combines the allure of crochet with the allure of a bewitching design. This project transports you to a realm where creativity knows no bounds, requiring intermediate-level skills. With its unique blocking and cropped style, the Patons Blocked & Cropped Crochet Pullover stands as a defiant fashion statement. Embrace the convergence of crochet artistry and fashion, and adorn yourself with a piece that is nothing short of extraordinary.
Experience the awe-inspiring beauty of fall right at your dining table with the Fall Decor Autumn Crochet Placemat, a design from Raji's Craft Hobby. This crochet placemat captures the essence of the season, bringing its vibrant colors and intricate details to your tabletop. Each stitch is a testament to the wonders of autumn, creating a piece that adds a touch of awe to your dining experience. This placemat is a true work of art, showcasing the artistry of crochet in every fiber. Embrace the changing seasons and invite the magic of fall to your home.
The Tinton Falls Throw, a delightful free crochet pattern from Lion Brand, promises warmth on cold nights. Crafted with the soft and bulky Lion Brand Jiffy yarn and a Size K-10.5 hook, it boasts dimensions of 40 x 52 inches, making it the perfect snuggle companion. Its vibrant colors and easy skill level make it accessible for advanced beginners. Beyond functionality, this throw brings a pop of color and cozy comfort to any room, showcasing both your style and crochet prowess.
As the leaves change and the air becomes crisp, there's no better way to embrace the fall season than by diving into these enchanting crochet patterns. Each design captures the essence of autumn, blending warmth, style, and the joy of crafting. Whether you're a seasoned crocheter or just starting on your crafting journey, these patterns offer a diverse range to suit all skill levels. From cozy blankets to chic accessories, there's something for everyone to create and cherish. We hope you've found inspiration in this roundup and wish you a season filled with creativity, warmth, and memorable moments. Happy crocheting!