Thanksgiving is a special holiday that's important for several reasons! It's a time for gratitude, family, and reflection. Decorating your home with Thanksgiving elements adds a vibrant, festive atmosphere. Picture this: rich autumn colors, warm candlelight, and a cornucopia overflowing with nature's bounty. It's like bringing the beauty of the season indoors!

Creating intricate table runners,cozy fall-themed blankets or unique decorations can be incredibly fun and satisfying. Plus, it's a creative way to add a personal touch to your Thanksgiving celebrations.

So what are you waiting for? Here's a list of Thanksgiving crochet patterns for you to choose from!
Free Thanksgiving Crochet Patterns – Top Picks
Looking for a fun way to up your fine dining game? Worry no more, as we present to you the Turkey Silverware Holder by the designer Michele Wilcor! A single pocket utensil holder in size 7 ¾ inches, enough not to overpower your whole dining table. This crochet is both innovative and fun, making this piece a talk in the dining room. A festive and juicy turkey holding your utensils that is personalized and easy? Who doesn't want that?
Welcome your guests with this warm and hearty wreath called Happy Thanksgiving Wreath from Lily Sugar n' Cream! The spirited crochet is adorned with pumpkins and a big Turkey as its centerpiece. Its base is hay strands tied together in a circle! While it has a deceptively simple appearance, this piece is best suited for those with intermediate crochet skills. Beginners can view it as a lovely challenge! So, what are you waiting for? Grab your tools now!
Decorate your place this thanksgiving with this easy Pilgrim Dishcloth! This piece is a smiley pilgrim's head that will definitely woo your guests the moment they enter your kitchen. This piece is from Lily Sugar n' Cream to tickle and trifle with your imagination this Thanksgiving. Available in size 10 ½ inches tall, this piece is big enough to cover even your biggest plates!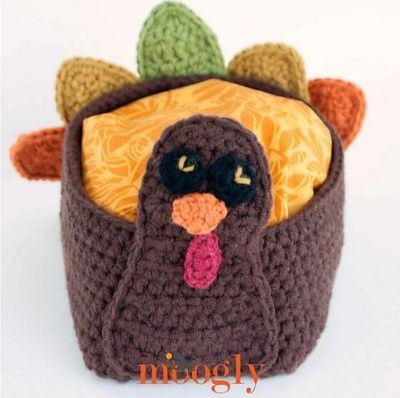 Designer: Tamara Kelly of Moogly Blog
A perfect way to entice your guests is to give them this Tasty Turkey Basket with your favorite goodies! This crochet basket is 10″ long, 6″ wide, and 5″ high, making it spacious enough for the special items that you'll store in it. This piece is one of the most unique beginner-friendly crocheted baskets ever created, designed by Tamara Kelly of Moogly Blog.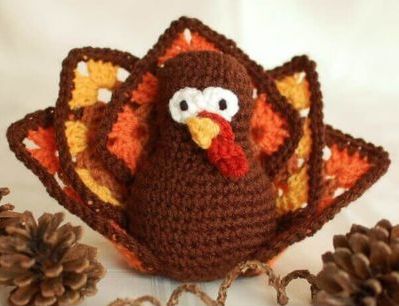 Designer: Petals to Picots
Meet Mr. Gobble, the Granny Square Thanksgiving turkey! This crochet decor is a delightful journey, merging intricate granny squares with a plump Thanksgiving turkey. Its granny square wings add a touch of nostalgia to the festive design. Crafted with worsted weight yarn and a US G-6 / 4.0mm crochet hook, this unique creation by Petals to Picots is exclusively for experienced crochet artists. While the pattern may pose some challenges, the end result is absolutely worth the effort. Dive into this special project and bring Mr. Gobble to life for your Thanksgiving celebration!
One of the unique Thanksgiving crochet things listed in this article is definitely the Give Thanks Banner! Created by the genius Rebecca J. Venton for Yarnspirations to be beginner-friendly, this piece is relevantly easy to recreate. Each square in this piece is around 4 inches wide and 4 ½ inches tall. It's not Thanksgiving without giving thanks and this crochet piece is a fun home decoration that will remind you just that!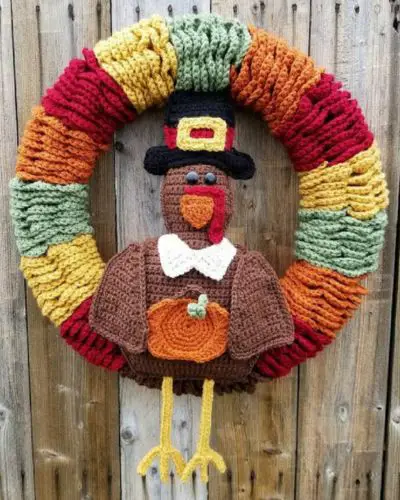 Designer: Erica of Highland Hickory Design
If you want a Thanksgiving wreath that is more festive and free, then, this crochet by the name of Thanksgiving Wreath is for you! Designed by Erica of the Highland Hickory Design, this piece is created with the colors of fall and a nice turkey in a Pilgrim's hat! This piece is suitable for budding crochet artists who want to look for a good challenge. When finished, this piece is of size 19 ½" in diameter, making it enough for your doors or enough to make your family swoon over it when you give it to them as a Thanksgiving gift!
Spice up your Thanksgiving with this crochet called Spicy Crochet Pumpkins as your table centerpiece! This easy crochet is a good dainty pumpkin that looks like a bell pepper at the same time. Designed by Cassandra Bibler, this piece aims to give life to your dinner table. The size of this piece when finished is around 3 ½" so we recommend making more than one if you want it to catch the attention of your family members this coming Thanksgiving!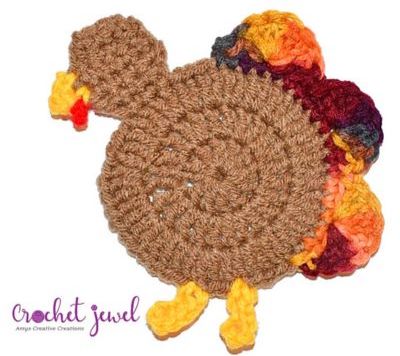 Designer: Amy of Crochet Jewel
If you're done with your turkey themed silverware holder, then, this Crochet Turkey Coaster is a must have too! Designed by Amy of Crochet Jewel to cleverly help hot cups to not ruin your precious thanksgiving table, this piece is effective and fun. This easy piece is beginner friendly and can hold even your wide- based coffee mugs. So what are you waiting for? Elevate your thanksgiving dinner with this adorable Crochet Turkey Coaster, now!
Designer: Sarah of Repeat Crafter Me
Recreate this Turkey Wreath by Sarah of Repeat Crafter Me. This piece can be done with basic crocheting skills and as easy as 1,2, 3! This Turkey themed wreath is complete with the colors of autumn as its feathers. This piece uses 10″ wreath form. Created with love, this crochet will definitely warmly welcome your thanksgiving guests with goof!
If you're into a more soft-themed thanksgiving decoration, this Autumn Tones Table Runner is surely what you're looking for. Created by Joyce Geisler with class and finesse, this table runner features autumn tones that definitely fits the thanksgiving vibe. Though designed with intermediate crocheters in mind, determined beginners are encouraged to take on the challenge and expand their skill set. When done, this piece measures approximately 14 ¼ inches x 36 ¼ inches perfectly matching your Thanksgiving themed centerpieces!
Discover the charm of the Harvest Bowl, a free crochet pattern brought to you by Lion Brand. Crafted using the versatile Vanna's Choice yarn and expertly worked with both J-10 and K-10.5 crochet hooks, this medium-weight yarn creation is perfect for intermediate crafters. Evoking the warm hues of autumn, this bowl is an ideal centerpiece for your Thanksgiving table. Whether showcasing decorative gourds, felted acorns, or other festive items, it's a handcrafted beauty that adds a special touch to your fall decor.
Embrace the essence of fall with the Thanksgiving Gourds, an enchanting crochet pattern courtesy of Lion Brand. Skillfully designed for intermediate crocheters, this pattern utilizes the plush Wool-Ease Thick & Quick Yarn and is expertly crafted with a J-10 crochet hook. Each gourd, worked in super bulky weight yarn, exudes warmth and seasonal charm. Perfect for adorning your Thanksgiving table or any autumnal display, these handcrafted gourds are a testament to the beauty of crochet, bringing a cozy touch to your festive decor.
Experience the charm of autumn with the Fall Wineglass Decorations, a free crochet pattern presented by Lion Brand. Utilizing the Vanna's Choice yarn collection and a G-6 (4.25 mm) crochet hook, crafters can create detailed maple leaves, each measuring approximately 2 inches across. Designed for those with intermediate crochet abilities, this pattern encourages color play to capture the essence of fall. Beyond their aesthetic appeal, these decorations are practical, helping guests identify their wine glasses at Thanksgiving feasts and festive autumn gatherings, adding a touch of handcrafted elegance to any celebration.
In essence, Thanksgiving is a time to feel the warmth of family, express gratitude, and cherish the beauty of the season. Decorating your home with handmade elements is a delightful way to immerse yourself in the spirit of this special day, Happy Crocheting!